About Ipottytrain.com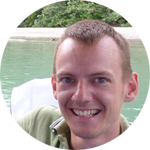 My name is Thomas, I'm married and a father to 2 wonderful kids. I'm an organized and structured person. Where I live it's not common for the father to be home with the children after birth. The usually stay home for the first 10 days then go back to work. Most mothers go back to work when the children reach an age of 12 to 18 months. That's when the children starts at kindergarten. Thanks to good planning I've been able to be home from work and spend the first years since birth with my children and wife.
During this time we did a lot of travel and had a wonderful time together. Since I had so much time with my children I was able to do a lot of research in different areas and teach them lots of things. One of the things we did very successful was the way we potty trained our kids. They thought it was fun and it went extremely smooth! Our method is much more gentle than many other methods out there and that's why I decided I wanted to share it.
I hope you also will find it useful.